In honor of reaching and surpassing 100 followers on the blog, it is time for my very first blog giveaway, and I am so pleased to say that the giveaway is for one of my favorite must-have baby items: the amber necklace! Thank you to
Inspired By Finn
for sponsoring the giveaway!
You've seen the photos of my Jack wearing his amber necklace:
And no doubt you've heard me talk about the benefits of baltic amber. Baltic amber has natural analgesic properties, and many parents - myself included - have found that babies can benefit from wearing amber while teething. Jack has had six teeth break through and I very strongly believe that teething has not been the rough ordeal it would have been without the relief that the amber necklace brings. Plus? It is adorable. He looks darling in his necklace, and people comment on it all the time. An amber teething necklace is, in my opinion, a must-have for teething babies, and they make great gifts for new moms.
So how do you get one of your own?
You can win one this week! Inspired by Finn is offering the winner one necklace, 14" or smaller, that is in stock on their website.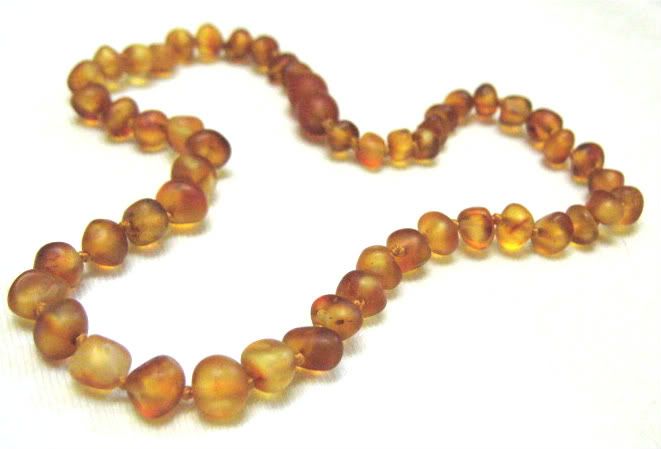 To enter
:
Be sure you follow my blog! Then, check out
Inspired by Finn,
and come back here and leave a comment telling me which necklace you'd choose if you were the winner. That comment will be your official entry.
Additional entries
:
You overachievers can get some additional entries by doing the following things - each of these counts as one entry, but you
must
leave a separate comment on this blog for your entry to count.
1.
Follow Monkey Butt Junction on Twitter -
@mbjunction
2.
Tweet "Enter to win an amber teething necklace from Inspired by Finn and @MBJunction! http://tinyurl.com/2uwlhhq" You can tweet this once per day for an entry throughout the duration of the contest (but remember to come back here and leave a comment so your entry can be counted!)
3.
"Like"
Monkey Butt Junction on Facebook
4.
"Like"
Inspired by Finn on Facebook
That's all you need to do to enter! We'll choose a winner on Friday, October 8, 2010.
Contest Rules: You can enter between now and 12:00 noon Central Time on Friday, October 8, 2010. The winner will be selected randomly on Friday, October 8, 2010 and notified in a new post. The winner will have 48 hours to respond and claim their prize; if the prize is not claimed within that time, a new winner will be selected. The contest is open to residents of the United States only. Good luck!
As if that isn't enough, by "liking" Inspired by Finn on Facebook, you can save money on your order with Inspired by Finn! (Although no purchase is necessary for the contest.)
To save 20%, be sure to "like" Inspired by Finn, and enter the code "FB20" when you check out on their website.
To save 25%, be sure to "like" Inspired by Finn AND use the "Suggest to Friends" link to share the site with others. Enter the code "FB25" when you check out on their website to get this discount.
I have recommended amber from Inspired by Finn since Jack was just a few months old, when this blog was brand new and long before I was thinking about blog giveaways. Thank you to Inspired by Finn for sponsoring this great contest - I can't say enough positive things about these necklaces.